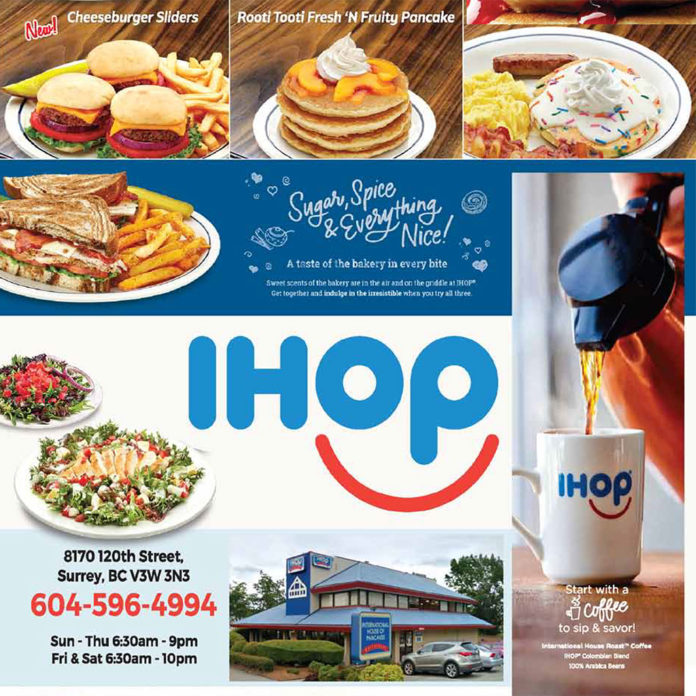 F irst of all, an ever smiling logo of this IHOP set me into a good mood with hunger hormone ghrelin gushing in my stomach. As I could not help smiling, what flashed into my mind was an image of laughing Buddha – which depicts plenitude of happiness and satisfaction. "Everything You Love About Breakfast", the hook line of the company gives a fair idea that they are specialist and cater to breakfast eating in particular.
particular. To my pleasant surprise they serve with pleasure a multicultural and wide variety of items which are a part of lunch and supper with their leading competitors as the place [s] are open up to late hours on seven days a week and around the year.
IHOP is an acronym which stands for International House of Pancake. True to its humble beginnings, 58 years back they started as pancake specialist and now they serve over 12 types of pancakes. Apart from that also serve French toast with scores of bread types, omelettes, onion rings, waffles, crème crepes, salads, soups, sandwiches, burgers, fish, chicken burgers, beverages hot and cold, deserts, and other nonvegetarian items to quote a few . In fine, one can safely say, that it caters to every strata of society and age group, be it for kids, adults or 55 plus senior citizens. The food quality with this, a billion dollor company with charity in their heart, is par excellence
Change is the only constant factor in life. With restaurant industry, new items keep on getting added in succession to tickle the taste buds. Further enquiries revealed that they are adding new items in beverages and meals in few weeks with festivities around the corner.