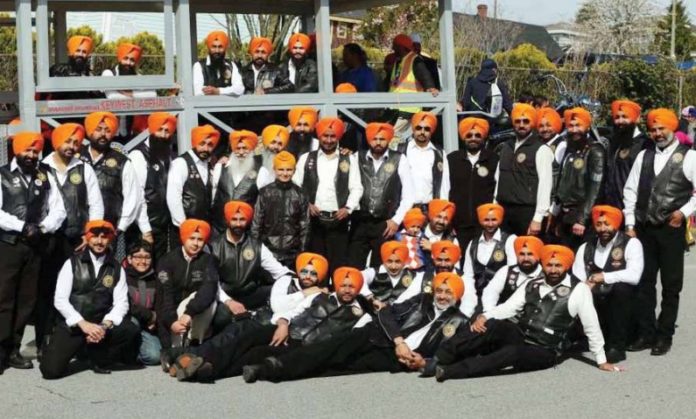 T his club constitutes with a group of individuals who shares equal passion for motorcycle riding. The main aim of the club is to make promotion of safe motorcycle riding and offers an active social club for all members.
Goals:
Raising awareness about motorcycle safety among members.
Helping of injured motorcyclists in cooperation with other organisations. 4Increase awareness in the broader community about SIKHS and TURBANS
History of the club
On March 20, 1997, Mota Singh Jheta provided a letter of Human rights complaint to Human Rights commission which is typed using a portable Remington typewriter on the behalf of Mr. Avtar Singh Dhillon. In the complaint, he requested that practicing Sikhs must be exempt from the requirement under Section 221 of the Motor Vehicle Act of the BC. On May, 11, 1999, this exemption is valid for all the personshave unshorn comprises of five or more square metre of cloth and who practises the Sikh religion under Section 221 of the Motor Vehicle Act of the BC. This historical change marked as a beginning of Sikh Motorcycle Club in Canada. It is the only Sikh Club of Canada
During the summer, 2002, Harjinder Singh, Host of Surrey Radio Broadcast invited a small group of motorcycle enthusiast to participate in a documentary about turban wearing motorcyclist; this documentary raises the awareness about growing number of Sikhs who enjoyed riding motorcycles.
After this documentary, Harjinder Singh Thind, Avtar Singh Gill, Malkit Singh Rai, Kulwinder Singh Khangura and Amritpal Singh Randhawa started meeting on regularly basis to ride under the name of "Royal Enfield Riders".
e name of "Royal Enfield Riders". Few months later, a large number of Sikh motorcyclists met and inaugurated the "Sikh Motorcycle Club". Avtar Singh Dhillon was specially invited to this meeting along with Baldev Singh Mookar, Bhupinder Singh Uppal, Jaspal Singh Bagha, Ajadwinder Singh Sidhu and Harjit Singh Shira. These are the founding members joined the original five.
Present status of the club Today in the province of BC, Sikhs are legally allowed to ride the motorcycles while wearing the turbans. This club has grown leaps and bounds with the membership all over the hundred members.