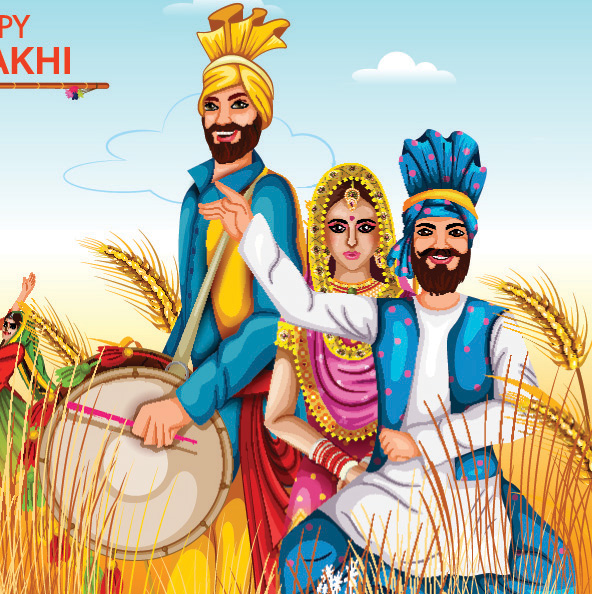 Festival of Baisakhi is celebrated with lot of joy and enthusiasm in the northern state of Punjab and Haryana. Farmers are jubilant over the festival as for them Baisakhi marks the time for harvest of rabi crops. Prosperous with the bountiful produce they look forward to celebrating Baisakhi with all eagerness. For the predominant Sikh population of Punjab Baisakhi is one the biggest festival as it marks the foundation day of Khalsa Panth by the tenth Sikh Guru, Guru Gobind Singh. Sikh community located anywhere in the world celebrate Baisakhi by participating in the special prayer meets and Baisakhi processions.
Baisakhi Celebrations by Farmers
In the villages of Punjab and Haryana, the day of Baisakhi is full of colors and vibrancy. Cries of "Jatta aayi Baisakhi" reverberate in the skies as gaily-dressed men and women move towards the fields to celebrate the occasion. High point of Baisakhi celebrations in villages is the performance of traditional folk dance bhangra and gidda by men and women respectively. The dance is simple in movement but is extremely energetic and is performed in-groups on the beat of dhol. Farmers also celebrate Baisakhi as a Thanksgiving Day. After taking an early bath in ponds or rivers people visit temples or gurdwaras to express gratitude to the Almighty for the bountiful harvest and pray for prosperity and good times in future. At several places in Punjab colourful Baisakhi Fairs are also organized to celebrate the day. People participate in these fairs with lots of enthusiasm and charm. Major attractions of Baisakhi Fairs are the bhangra and gidda performances besides wrestling bouts, singing and acrobatics. Performance of folk instruments – vanjli and algoza is also quite popular. Food stalls and shops selling trinkets make Baiskhi Melas even more joyful.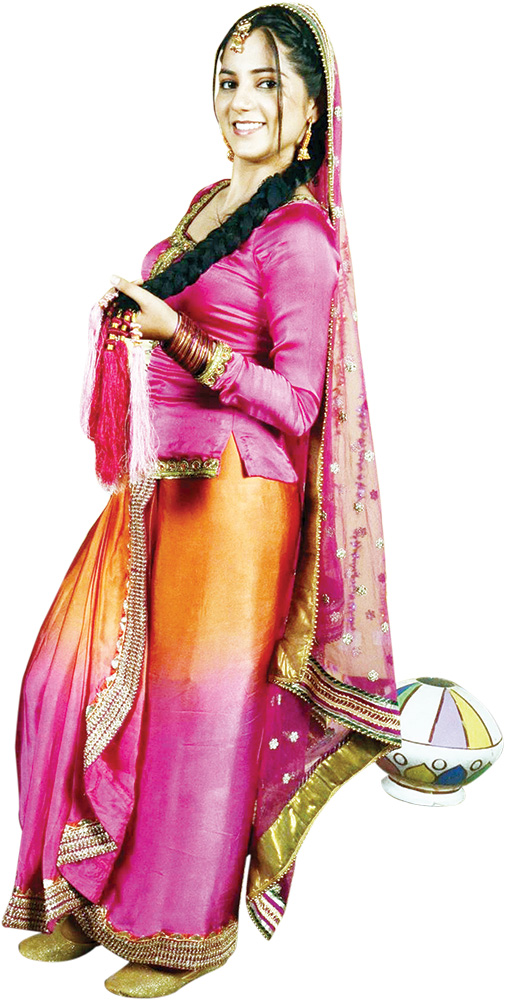 Baisakhi Celebrations by Sikhs
Sikhs celebrate this very important day of their religion with joy and devotion. They take an early bath, wear new clothes and visit the neighborhood gurdwara (Sikh place of worship) to participate in the special prayer meet marked for the day. After a special ardas of kirtans (religious songs) and discourses kada prasad (sweetened semolina) is distributed amongst all present. Later, people sit in rows to relish the langar or community lunch prepared and served by kar sevaks or volunteers. Another high point of Baisakhi celebrations by Sikhs is the Baisakhi procession or nagar kirtan carried though the city under the leadership of Panj Piaras or the Five Beloved Ones. Men, women and children alike participate in the Baiskhi processions with enthusiasm. Mock duels, bands playing religious tunes and performance of bhangra and gidda dance make Baisakhi processions quite colourful and enchanting. Later in the evening, people exchange greetings with friends and relatives usually with a box of sweets or other traditional gifts.
Baisakhi Mela
Baisakhi Mela or Baisakhi Fair is one of the most colourful aspects of Baisakhi celebrations in the state of Punjab. One can find vivid and vibrant colours of life in rural Punjab in such fairs. Happy with the harvest and the ensuing prosperity, men and women dress themselves in their fanciest clothes and participate in the Baisakhi fair with joy and gusto. Various activities have been incorporated in Baisakhi fairs to give people a chance to let their hair loose and enjoy the spirit of life and inner freedom.
Attractions of Baisakhi Mela
Baisakhi Fairs are extremely popular amongst the people of Punjab. People come with their family and friends to participate in fairs from far off places. Most fascinating features of Baisakhi Mela are bhangra and gidda performances. Other activities that enthrall people are races, wrestling bouts, singing and acrobatics. Performance of folk instruments, such as vanjli and algoza is also quite popular. More colours are added to Baisakhi Fairs by the numerous stalls selling bangles, toys, local handicrafts and other trinkets of domestic use. Food stalls are also a major crowd-puller in a Baisakhi Mela. Baisakhi Fairs is marked of Talwandi Sabo. Here, Guru Gobind Singh stayed for nine months and completed the recompilation of the Guru Granth Sahib.
Baisakhi Celebration in India
The auspicious day of Baisakhi is celebrated all over India though under different names and with different set of rituals. People of Assam celebrate April 13 as Rongali Bihu, while those in West Bengal celebrate it as Naba Barsha. Bihar celebrates Baisakhi as Vaishakha in honour of the Sun God, Surya while Kerala celebrates it as Vishu and Tamil Nadu as Puthandu. In Kashmir, a ceremonial bath and general festivity mark Baisakhi while in Himachal Pradesh devotees flock to the temple of Jwalamukhi and take a holy dip in the Hot Springs.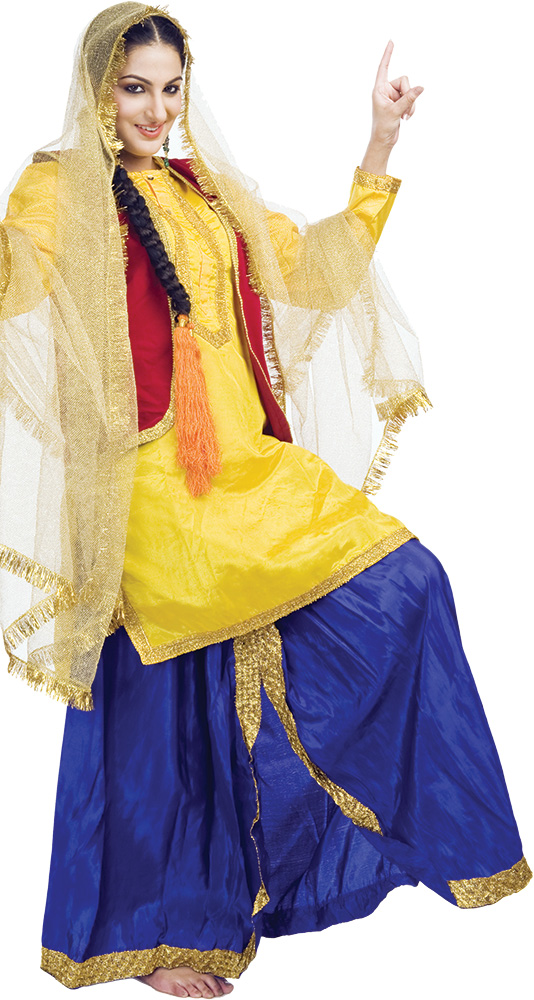 Baisakhi Fairs around the World
Popularity of colorful Baisakhi Fairs is not restricted to villages of Punjab, Baisakhi melas are equally popular in big cities and towns in Punjab and also in other cities of India where there is a significant Sikh population. Huge Sikhs diaspora in countries around the world has made Baisakhi Melas globally popular. Thanks to a significant Sikh population in UK, Vaisakhi Fairs are organized with gusto at Trafalgar Square in London. High level of energy and enthusiasm in Baisakhi fairs pulls towards itself people of other communities and religions. Baisakhi celebrations of Toronto, New York and New Jersey are quite popular. Presence of popular Indian cine stars and singers add more excitement to Baisakhi Fairs organized in foreign countries. Energetic Bhangra and Gidda performance and the very tasteful Punjabi cuisine have helped Baisakhi make its mark in the international scene.