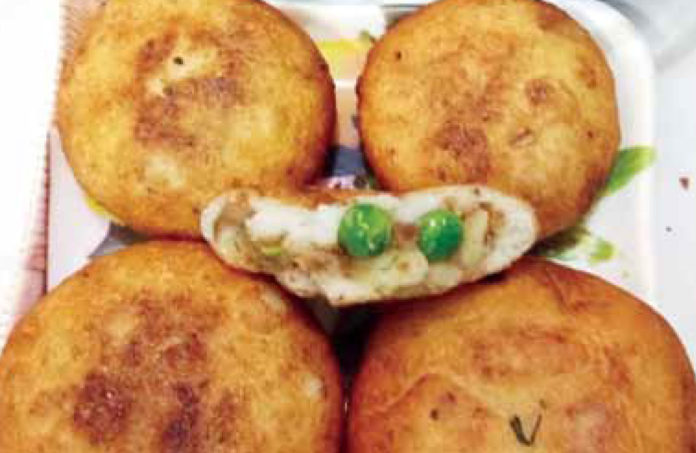 A tasty snack recipe made with semolina (suji) and a stuffing of potato and various spices, Suji Kachori is a delicious dish that you can make for your loved ones in breakfast. Try this mouthwatering recipe for kitty parties and game nights and your guests will love it for sure!
INGREDIENTS:
-2 cup semolina
-1/2 teaspoon cumin seeds
-Salt as required
-1 1/2 teaspoon refined oil
-1/2 teaspoon thymol seeds
-1/2 teaspoon red chilli powder
-2 1/2 cup water 42 cup refined oil For Filling
-4 pieces chopped green chilli
-1/4 teaspoon red chilli powder
-1/2 teaspoon chaat masala
-Salt as required
-4 boiled,mashed,peeled potato
-1/4 cup coriander leaves
-1/4 teaspoon garam masala powder
-1/4 teaspoon cumin powder
Method:
Step 1
Heat pan on medium flame and heat water in it. Then add suji and mix well with water.
Step 2
Add all the dough ingredients in it and stir continuously till the mixture becomes thick in consistency. Switch off the flame when it becomes just thick enough to make the balls.
Step 3
Transfer the dough mixture in a bowl and let it cool for sometime. Now in an another bowl, add boiled and mashed potatoes.
Step 4
And add all the stuffing ingredients in it and mix well. Now take few drops of oil in your palm.
Step 5
Take dough like roti ball size and press it with hand, just like tikki. Put the potato stuffing inside and roll to cover the stuffing. Pat the ball with your palm and give it a tikki shape.
Step 6
Heat oil in a pan on high flame, and fry them till they turn golden brown from both the sides on medium flame.
Step 7
Soak the extra oil on paper towel and serve with any chutney or tomato ketchup.